Introduction
3D PDF exporter for Maya plugin enables Maya users to share their 3D models in customized 3D PDF file format. Sharing models in PDF format requires a free version of Acrobat reader which is virtually available on all machines. The plugin is supported on Maya 2009 - 2014 (32, and 64bit). In the image shown below an interactive 3D PDF template was created. The user can click on an image to view its camera orientation. To experiment with this exported 3D PDF file, please click here.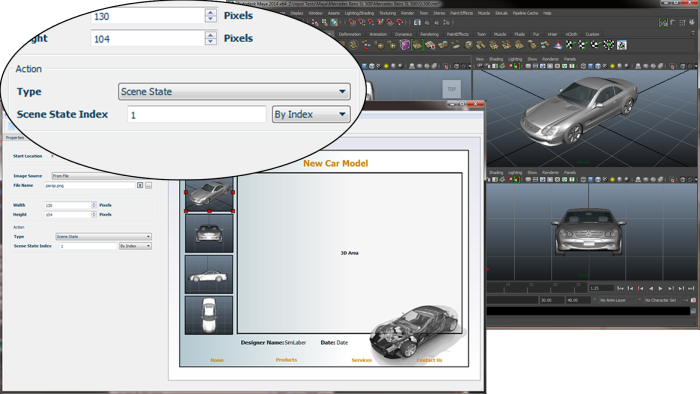 How to use the plugin
After installing the plugin, the top level menu SimLab will be added to Maya. If it was not it needs to be registered with Maya, for the first time. This can be done by clicking the main menu Windows -> Settings/Preferences -> Plug-in Manager.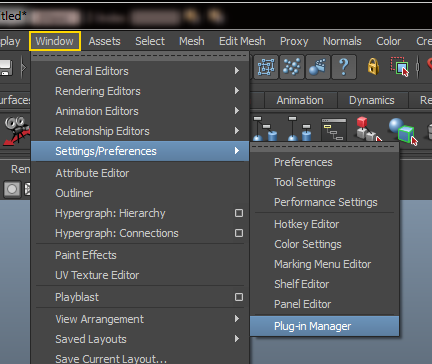 This will open the Plug-in Manager dialog, where a user can select the plugins to be loaded into Maya. Auto load will load the plugin the next time Maya is opened.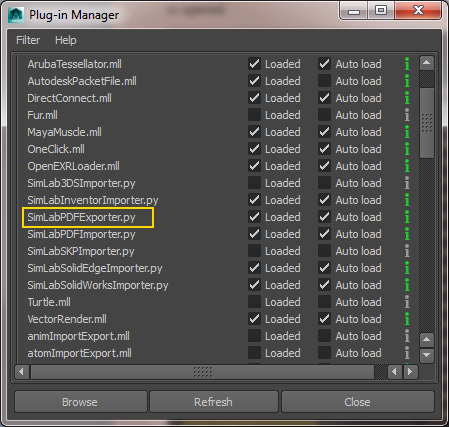 After loading the plugin the top level menu SimLab will be added, where you can access the plugin's functionalities. The plugin is supported on both Windows, and Mac, operating systems.
After registering the plugin with Maya a user can activate it by selecting the Register option from the SimLab menu. For step by step instructions on how to request trial license, or how to register your plugin please, click here.
Before exporting 3D models to 3D PDF files, a user will need to choose/create PDF template to use, and set the other PDF settings. This can be done by clicking SimLab -> PDF Export -> PDF Settings. For more details about SimLab PDF Settings, click SimLab 3D PDF link in the Learn More section below.
After setting the required PDF Settings, a user can export Maya models in 3D PDF format by clicking SimLab -> PDF Export -> PDF Export.
Learn More
Download 3D PDF exporter for Maya Free Trial
SimLab 3D PDF exporter for Maya is a powerful maya plugin which, in one click, allows maya users to export their 3D scenes and designs in the popular 3D PDF format, that can be later viewed using Adobe Acrobat Reader. Exported 3D PDF files can be customly created using SimLab Template Designer.
Buy
Volume Discount
All professional licenses are eligible to the following volume discount. Volume discount will be automatically applied when ordering the licenses.
| | |
| --- | --- |
| Number of licenses | Volume discount |
| 2 - 5 | 5% |
| 6 - 10 | 10% |
| 11 - 20 | 15% |
| 21 - 100 | 20% |
| 100+ | 25% |