Introduction
SimLab SolidWorks importer for 3ds Max adds SolidWorks import capability to Autodesk 3ds Max. The plugin adds the ability to import native SolidWorks parts and assemblies (*.sldprt, *.sldasm), from SolidWorks 2014, and prior. The plugin is supported on 3ds Max 2010-2014, 32 and 64bit.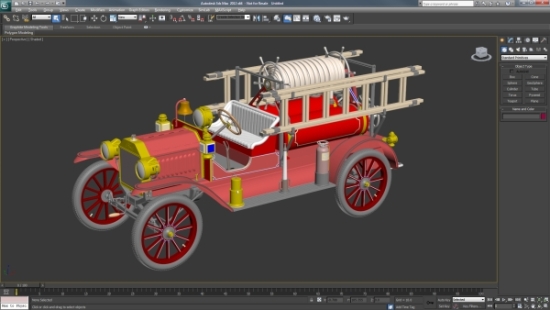 Great SimLab features you deserve
- Fast importer; no matter how big your 3D model is, in just few seconds it will be imported into 3ds Max.

- SimLab SolidWorks importer for 3ds Max DOES NOT require the installation of SolidWorks application.

- SimLab SolidWorks importer for 3ds Max supports importing SolidWorks 2014 3D parts and assemblies, and prior.
How to use the plugin?
After installing the plugin, it automatically registers itself with Autodesk 3ds Max, and adds SolidWorks Importer sub menu under the SimLab menu in 3ds Max. Users will be able to import SolidWorks models by clicking SimLab ->SolidWorks Importer -> Import SolidWorks File.

From the Import window, a user can select the SolidWorks part or assembly (*.sldprt or *.sldam) and click Open. In just few seconds you should have your SolidWorks model added to your 3ds Max scene.
.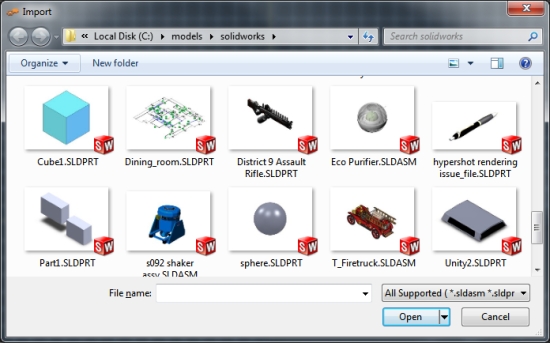 Download SolidWorks importer for 3ds Max Free Trial
SolidWorks importer for 3ds Max is a powerful 3ds Max plugin which, in one click, allows 3ds Max users to import SolidWorks files and edit them inside 3ds Max .
Buy
| | |
| --- | --- |
| | Buy machine locked license, 32 or 64 bit ($150) |
| | Buy floating licenses, 32 or 64 bit ($300) |
| | Upgrade from pervious versions, ($39) |
Volume Discount
All professional licenses are eligible to the following volume discount. Volume discount will be automatically applied when ordering the licenses.
| | |
| --- | --- |
| Number of licenses | Volume discount |
| 2 - 5 | 5% |
| 6 - 10 | 10% |
| 11 - 20 | 15% |
| 21 - 100 | 20% |
| 100+ | 25% |