Texture/Light Baking
Give your 3D scenes and models a realistic look on all devices.
Lights and textures baking is widely used in a lot of 3D visualization techniques such as 3D PDF, 3D web views, VR, games, and more. It gives a realistic look for shadows, colors, lighting, textures appearance, and more. Learn more about the use of baking.
Texture Baking
It is a method that bakes the final appearance of objects in the render into new textures. it will give a great look for static objects without the need for rendering.
Can

be exported as normal materials


Affect UVs


Replaces materials




Supported Outputs
Light Baking
Light baking is a method that calculates lights and shadows information then applies them into an individual layer over the texture of an object. It will give a better look for objects while keeping the materials and textures editable underneath the lightning layer.
Can't

be exported as normal materials


Doesn't affect UVs


Doesn't affect materials




Supported Outputs
Comparison
Better Graphics On All Devices
Higher quality on low-graphics devices
Use texture and light baking to increase your VR scenes quality on Oculus Quest, Oculus Go, smartphones, and 3D web views.
Realistic Look on higher graphics devices
With light baking, you can make your VR outputs look so realistic without being highly GPU extensive.
Select between Texture or Light Baking
Define a range for the new textures sizes to suit the needed output
Control the baking (rendering) quality.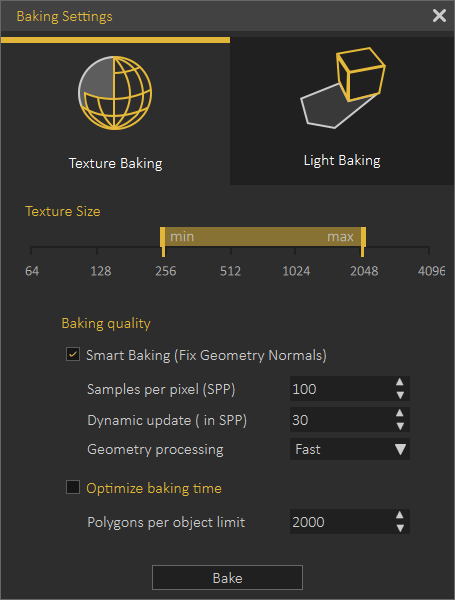 Start Baking With SimLab Composer Now